Maybe you have just discovered the Komondor breed and have decided this is the breed for you, or maybe you have wanted one for many years. The Komondor is still considered a rare breed and they can be difficult to locate. However, that does not mean you should buy the first one you find available. As the saying goes, good things come to those who wait, so be prepared to wait for the right dog for you.
The first place to begin your search for a Komondor is with the National Breed club, the Komondor Club of America. You can find the club secretary's name and phone number on this site  When you contact the secretary she will furnish you with information on the breed and a list of reputable breeders who are members of the KCA. This breeder's list can also be found on this site. To be on the KCA breeders list members must pledge to abide by the Komondor Club code of ethics. This would include among other things, not breeding a dog without an Orthopedic Foundation for Animals registration number, not breeding unregistered dogs, not selling puppies through a broker and not shipping dogs before a certain age.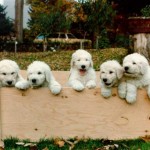 Once you receive the information from the club secretary you can begin calling breeders on the list. Prepare yourself with a list of questions to ask each breeder, and make notes so you can keep your facts straight. Questions to ask the breeder would include: are the sire and dam OFA certified, have their eyes been certified by CERF, what are their temperaments like, have they been shown to their championships, do they have obedience titles, have they been house dogs, kennel dogs or working dogs? Breeders should be happy to talk with you about their dogs, their experience with the breed and their involvement as a member of the Komondor Club. It is important to feel comfortable with the breeder you buy a dog from, as they should be there for the whole life of the dog to offer you advice, encouragement and friendship. That is the number one advantage of buying a dog from a reputable breeder, you are getting not only a dog, but a mentor with years of experience with the Komondor.
If you have never seen a Komondor in its home, now is the time to visit with adult Komondors. Breeders you call can refer you to someone in your area who owns Komondors. Seeing a Komondor at a dog show or on television is different than visiting one on his home turf. The same Komondor you were petting at the dog show may act totally different at home. Remember, the Komondor is a flock protection dog. If you have not seen a Komondor assuming his role of guarding his family and home, you have not seen a Komondor. Do not buy this breed if you are not prepared to live with a guard dog.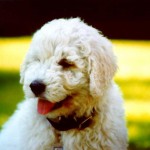 While you are interviewing the breeder, he will be interviewing you. You should decide before calling breeders if you are looking for a show dog, a working dog or a pet, and if you want a male or a female. If you have any special requirements such as wanting a dog for search and rescue work, or to be used in competitive obedience or as a guard dog, now is the time to speak up. If you want a dog who will live outside, decide that now, and tell the breeder where the dog will live. If you are interested in breeding or showing don't ask to buy a 'pet'. Different breeders will ask you different questions; no one has the same requirements for a puppy buyer. Don't be surprised when asked personal questions about your lifestyle. Buying a dog means making a commitment to that animal for his whole life, and a breeder wants to sell to someone who understands that commitment.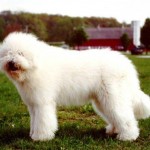 When you find a breeder whom you have a rapport with, you will start to narrow down just what you want in a dog. If you are interested only in a family companion, you will be buying a 'pet quality' puppy. This may mean that the puppy has a fault that would make it unsuitable for a show career, light eyes, a missing tooth or a too curly tail, but will in no way effect its ability to be an excellent pet. Those same faults would remove it from consideration as breeding stock. For those reasons pet quality dogs are sold with spay/neuter contracts or on AKC limited registrations. A contract might say the breeder will withhold the American Kennel Club papers until you supply proof that the dog has been surgically altered. A dog sold on a limited registration is not eligible to be shown in AKC shows or to have any offspring registered by the American Kennel Club. Do not think that because the Komondor is a rare breed you should breed your pet. Only the best dogs should be bred with the intention of improving the breed.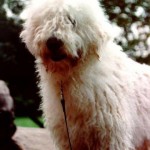 If you have hopes of your Komondor being a show dog, you will be more concerned about the pedigree of your puppy, and of the show wins of its sire and dam. Explain your plans for the dog to the breeder. Whether you will only be showing until he wins a champion title, or if you want a 'Special', a dog that, after winning his championship, goes on to compete against other breeds in the working group. A reputable breeder will honestly evaluate the litter and help you select the pup who has the potential both structurally and mentally to fulfill your dreams. No one can guarantee a puppy will grow up to be a show winner; a fault not apparent at eight weeks can develop later. Discuss with your breeder whether she has a policy regarding a refund or replacement for show puppies that do not mature into competitive dogs. If you decide to co-own a dog with the breeder, be sure to ask for a contract spelling out everyone's rights before you agree.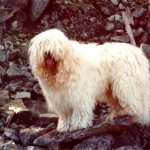 The Komondor is still a very popular livestock protection dog so perhaps that will be your new dog's job. The majority of the Komondor Club breeders do not use their dogs with livestock; but they can recommend someone who is familiar with the selection and training of a working dog. KCA members have successfully used Komondors with goats, sheep, llamas, cattle, horses and even exotic birds. When choosing a puppy to use with livestock, buy from a breeder who has experience with working dogs. He will best be able to offer the advice you will need to make your pup a success. A working pup should have good bone and substance, an even temperament and a willingness to please. Buy from dogs with a history of good hips to lessen the chance of crippling hip disease. If possible a visit to see the parents working is recommended. Several books on livestock protection dogs are available which may be of further help in the selection of a working dog.
We cannot often enough repeat: 'buy from a reputable breeder'. The Komondor is not without its fair share of puppy mill breeders and backyard breeders. You may even find a Komondor in your local pet store. Do not buy these dogs! These breeders are involved in breeding dogs to make a profit, not in breeding quality animals to improve the breed. You may be surprised to find that a show quality puppy from champion parents bought from a Club member will cost less than a pet store dog. So don't act on impulse and but the first Komondor you see.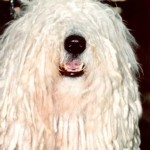 Puppies are a lot of fun, but are not appropriate for everyone. In households where all adults are gone during the day, no one will be home to care for the puppy's needs. In families with small children a frisky puppy may bring more stress and strain than enjoyment. Some people prefer to acquire an adult dog that is already housebroken, through the wild puppy teenager stage and has basic house and leash manners. With an adult dog, what you see is what you get. The dog has already reached physical maturity and will not markedly change. The dog has developed personality characteristics in accordance with its particular upbringing. You should be able to determine the quality of the dog's temperament – the single most important thing when choosing a pet, by close observation and interaction with the dog. Be sure to gather as much information about the dog's background, training and behavior as you can. Some adult dogs may have habits that you would find difficult to live with, and even more difficult to curtail; such as digging, destructive chewing, excessive barking, fighting or biting. If an adult dog better fits your lifestyle, two options are available.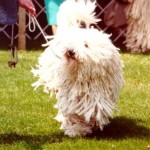 The Komondor Club of America offers a rescue referral service, finding homes for previously owned dogs. You can find out what is available through the program by contacted the Club Corresponding Secretary. These dogs come from Humane Society organizations or directly from their original home. You can also adopt an adult dog directly from a breeder. Reputable breeders either take back dogs of their breeding that need homes or work with the owner to find a suitable second home. Komondors are at times available for adoption, ranging in age from several months to several years. Sometimes they are a show pup that didn't live up to his potential, or perhaps a three year old who came back to the breeder after a divorce or the family moved to a new home and were no longer able to keep the dog. It is not uncommon for a five or six year old Komondor to be dropped off at a shelter because the family "no longer has time for a dog". Opening your home to a Komondor that is no longer a 'puppy' can be beneficial to you and the dog. If you are interested in an adult Komondor ask that your name be kept on file, by both the Club and breeders, until a dog is available. With patience, consistence and training, your new adult dog can become a fitting member of your household.
Because the Komondor is a rare breed, your search may mean the only puppies available are on the opposite side of the country. Then again, you may get lucky and locate a kennel near you. The location of the breeder should not necessarily play a part in you decision over where to get a puppy. Most Komondors are, quite successfully, shipped by air to their new homes . If you cannot visit the kennel personally, ask for photos or videos of the sire and dam and puppies. You might ask for a pedigree and copies of the sire's and dam's OFA certificates. If the breeder sells his dogs with a contract, ask to see it in advance of getting your puppy. It is not unheard of to ask for references from the breeder, but don't be surprised if the breeder asks for your references, too. Now is the time to ask questions and get everything out in the open. If you have any doubts about the breeder or the quality of his or her dogs, back out now. It is better to wait until another litter is available from someone you trust than to take the only dog available from someone you have questions about.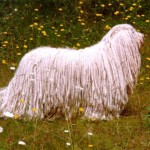 Buying a Komondor, or any dog, is seldom easy. Bringing a dog into your family, should never be done on impulse. You should be making a commitment to care for a living thing 'til death do us part'. That is why it is so important to learn as much as you can about the breed, the breeder and how you interact with both, BEFORE you get a dog. So go out and start researching the breed; talk to breeders and owners, read books and articles, watch videos, go to dog shows and visit with Komondors. If you still think this is the breed for you, then go out and buy your new companion. You'll soon wonder how you even lived without a Komondor.
© Lyn W. Bingham (for reprint permission contact the author)